Starting with something sweet for the first post of the new year with these chocolate cashew diamonds. These treats are not overtly sweet, nutty and melt in the mouth. And it's not too hard to whip up a batch.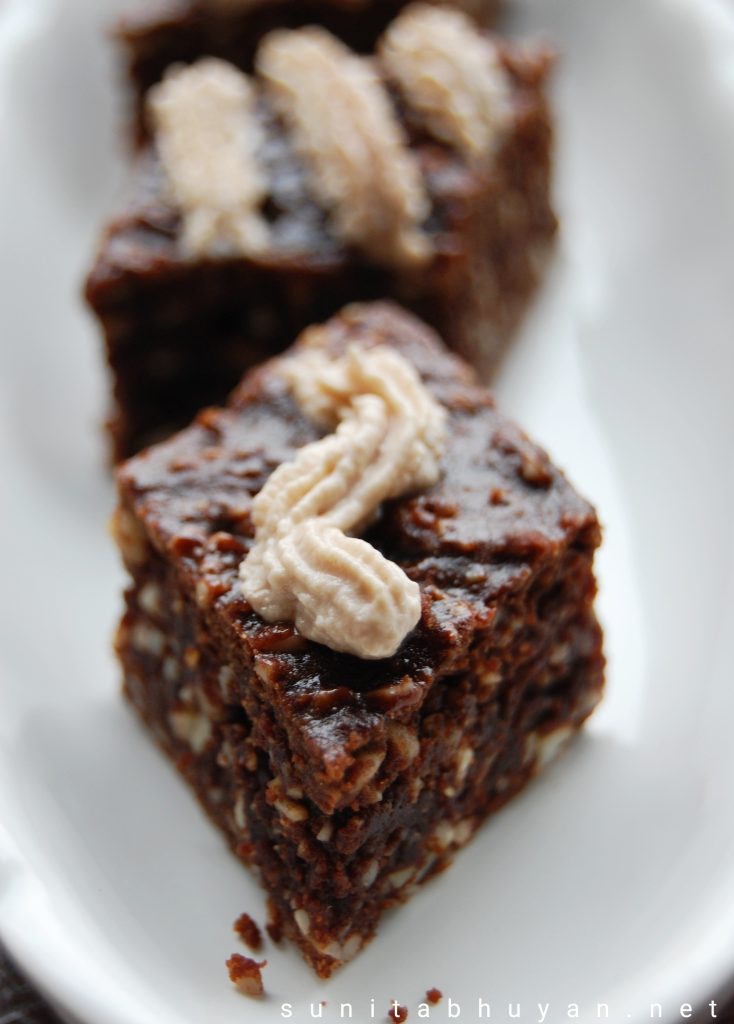 ---
A new year!
Hope you have all had a great start to the new year! Wishing you all the very best in the days, weeks and months ahead.
Thank you!
The past year has been eventful for me. After a gap of a few years, I started to get back into the world of food blogging ( something that I first started way back in 2006 ) – a fresh new start with this new domain. As I have mentioned here, this is an entirely new domain as I unfortunately had a mishap with the first one and wasn't able to pick up from where I left. It was quite daunting to start afresh. But I am so glad I took the leap. But with all of your support, I am so glad that I did take the leap. many thanks for all your support!
---
A huge thanks to all of you, both old and new readers who have supported this space; old readers and friends for your messages of support, and to all the new readers for visiting this website and leaving feedback when you've tried any recipe. I look forward to your continued support this year too and I hope to fill this space with more delectable recipes that you can recreate in your own kitchens.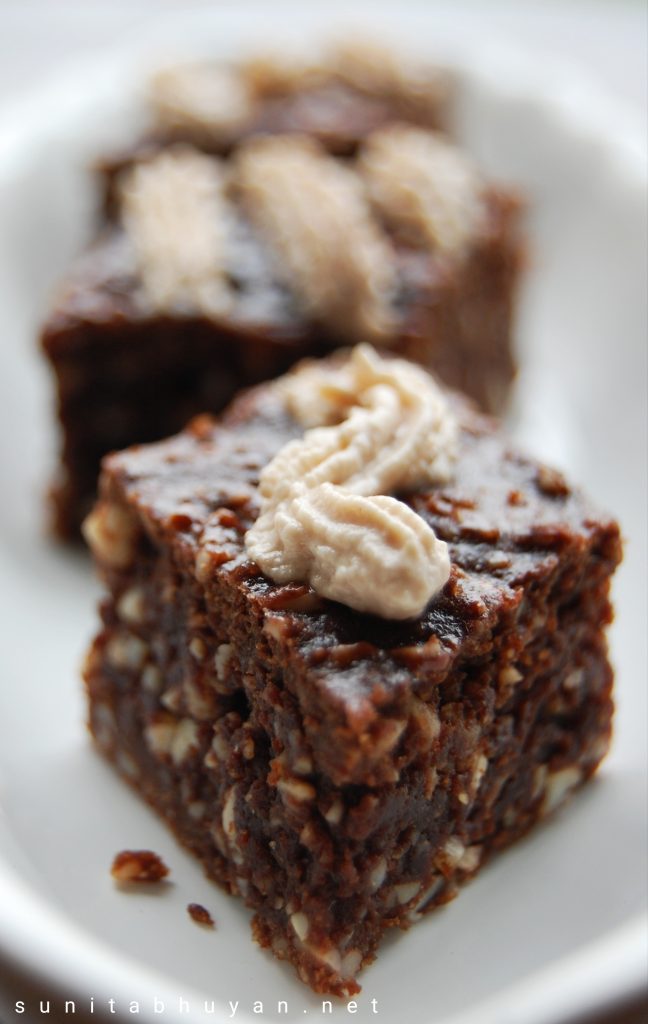 ---
Sharing an old favourite sweet treat to start off the new year. This also comes from the notebook. It is an easy recipe to whip up. I have given an idea for the topping, but they taste great even without. And by the way, the 'diamond' in the title just refers to the shape that I cut them in. you can cut them into whatever shape you wish- squares, rectangles etc.
Continue reading for the full recipe for these yummy chocolate cashew diamonds.
---
All the baking recipes on this website can be found here.
You might also like to try the following recipes from this website-
Oats and biscoff brownies
Moist and delicious brownies made with oats and spoonfuls of biscoff spread swirled through the top.
Check out this recipe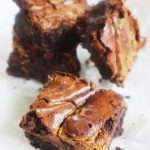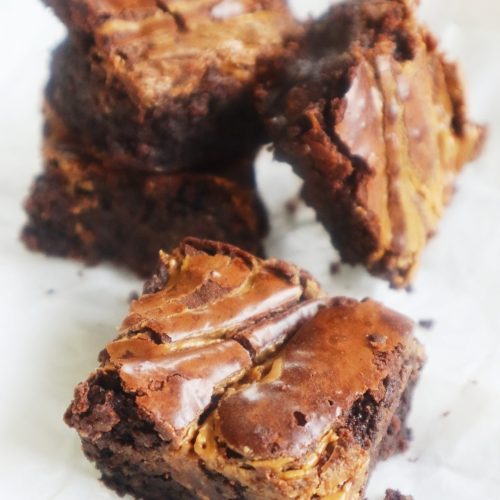 Chocolate, orange and almond flourless cake
A flourless chocolate cake with a hint of orange and almonds (ground and flakes)
Check out this recipe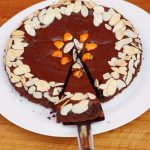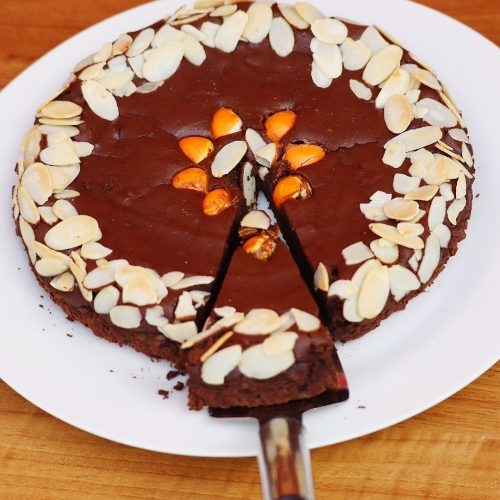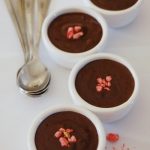 ---
Subscribe to Sunita's World – life and food! to receive updates on latest posts, tips and recommendations straight to your inbox! Simply fill in the details below. Thank you!
---
Stay connected-
On another note, if you try any recipe from this website, do take a photo and tag me on instagram @sunita_bhuyan. I would love to see your creations! Also, do connect on other socials too; links to all my socials are given below-
STAY CONNECTED:
---
Recipe card-
Chocolate cashew diamonds
A melt in the mouth chocolate treat packed with cashew nuts.
Ingredients
4

eggs

4

tbsp

brown sugar

100

gms

plain chocolate, melted and cooled a little

¾

cup

plain whole wheat flour (atta)

¼

cup

cocoa powder

⅓

tsp

baking powder

3

tbsp

sunflower / vegetable oil

2

cups

cashew nuts, roughly ground
Topping (optional)
some double cream, icing sugar, and a little cocoa powder
Instructions
Pre heat the oven at 170 deg C and line and grease an 8 inch square baking pan.

Beat together the eggs and sugar.

Sieve together the flour, baking powder and cocoa powder and fold into the egg mixture.

Add the oil and mix well.

Add the melted chocolate and mix well.

Tip the mixture into the prepared baking pan and spread out evenly.

Place the dish in the centre of the pre heated oven and bake for approximately 18 minutes or till very little sticks to a toothpick when inserted through the centre( do not let it dry out too much).

Cool in the pan for 2-3 minutes and then peel off the parchment.

Transfer to a rack and cool completely.

Cut into squares or diamonds to serve

If you want to go on with the topping, just whip together some double cream, a little icing sugar and cocoa powder till thick and pipe it or just spread it on the top ( I have not given specific measurements for the topping; use according to your preference)
---
You might also like to try these other recipes from this website-
Chilli and paprika French macrons
These chilli and paprika infused French macarons are perfect for those who would like their macarons to be less sweet. The paprika adds its smoky flavour and the hint of chilli adds to the flavour sensation.
Check out this recipe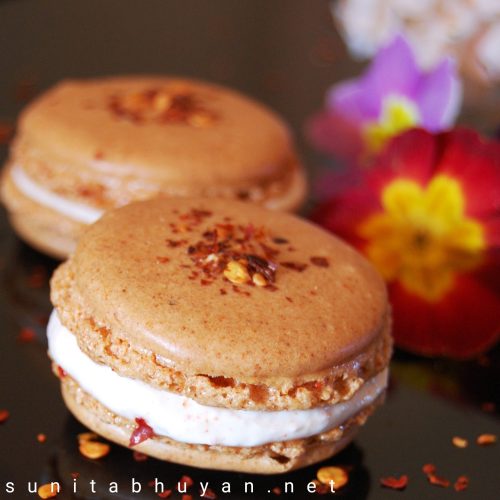 Pistachio and chocolate pinwheel cookies
These cookies are mildly sweet and wonderfully crumbly.
Check out this recipe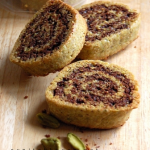 Eggless banana chocolate chip cookies
A delightful cookie alongside your cuppa or a glass of milk; consists of all good ingredients and is not overtly sweet.
Check out this recipe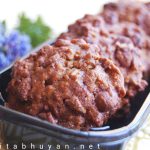 Until next time,
Sunita
STAY CONNECTED: