This keema sabji pulao – lamb mince vegetable pulao is a great one pot meal option. It is filling, nutritious and of course, being a one pot meal, you get to wash fewer dishes; and this is always a bonus.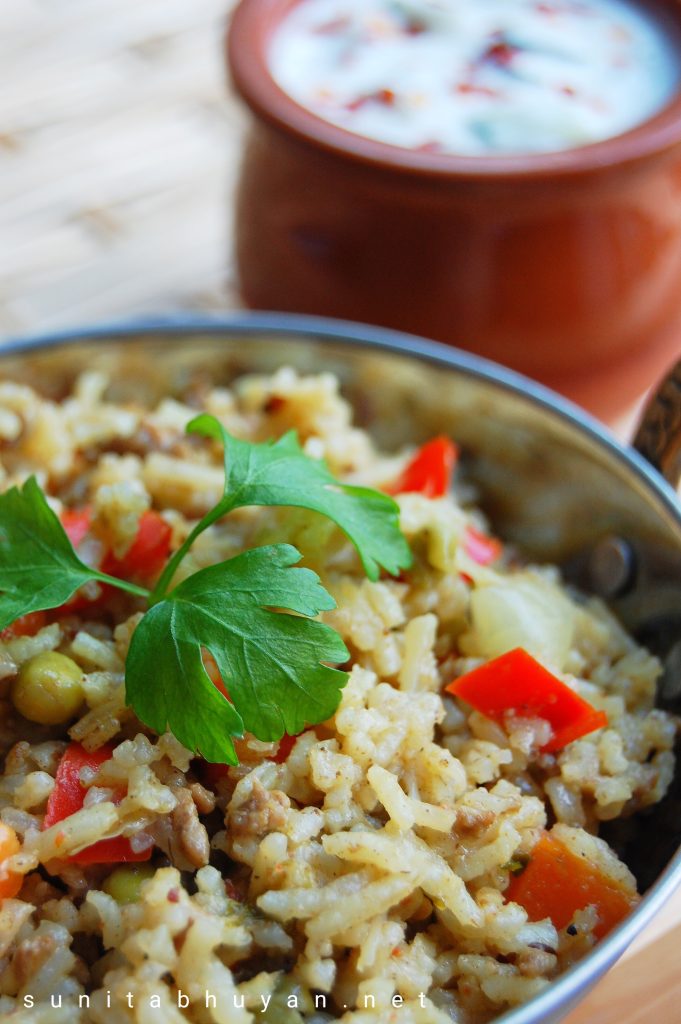 ---
One pot rice meals are so helpful. They are one of my favourite dishes to make. And one can make them in a variety of vegetarian or non vegetarian options. Once all the main ingredients are added to the pot, all one needs to do is to add the liquid, close the lid and let it do its thing. And a few minutes later, a hearty one pot meal is ready to serve and enjoy!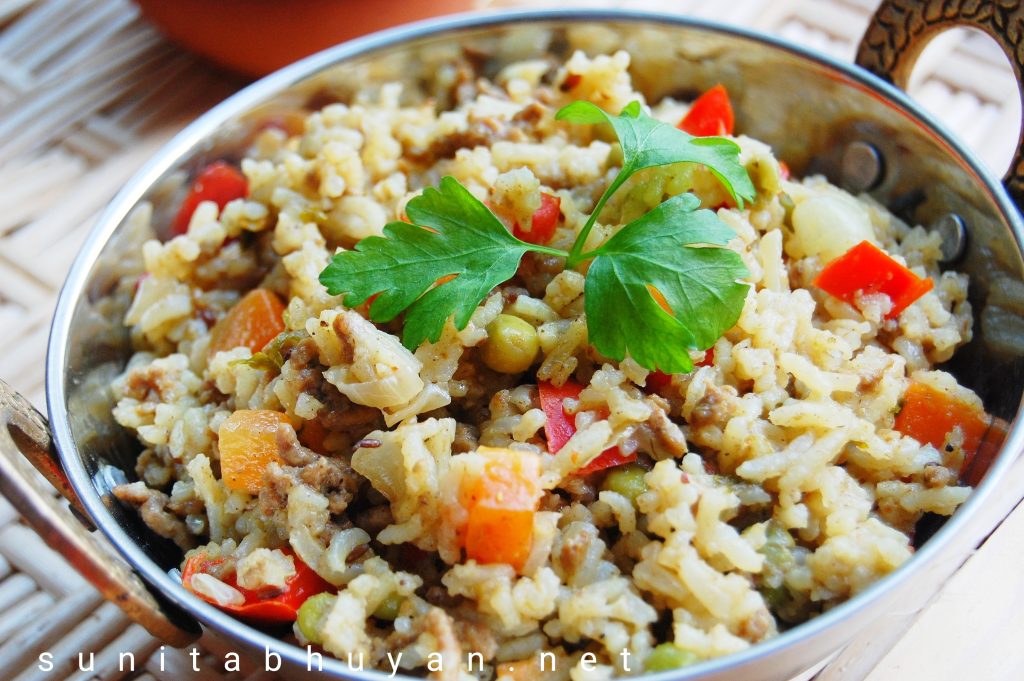 ---
This recipe also comes from the notebook and I have made it numerous times. But, as a home cook, most of the times, I eyeball the ingredients. So, I was very pleased that I did note down this recipe all those years ago and am now able to share it with all of you.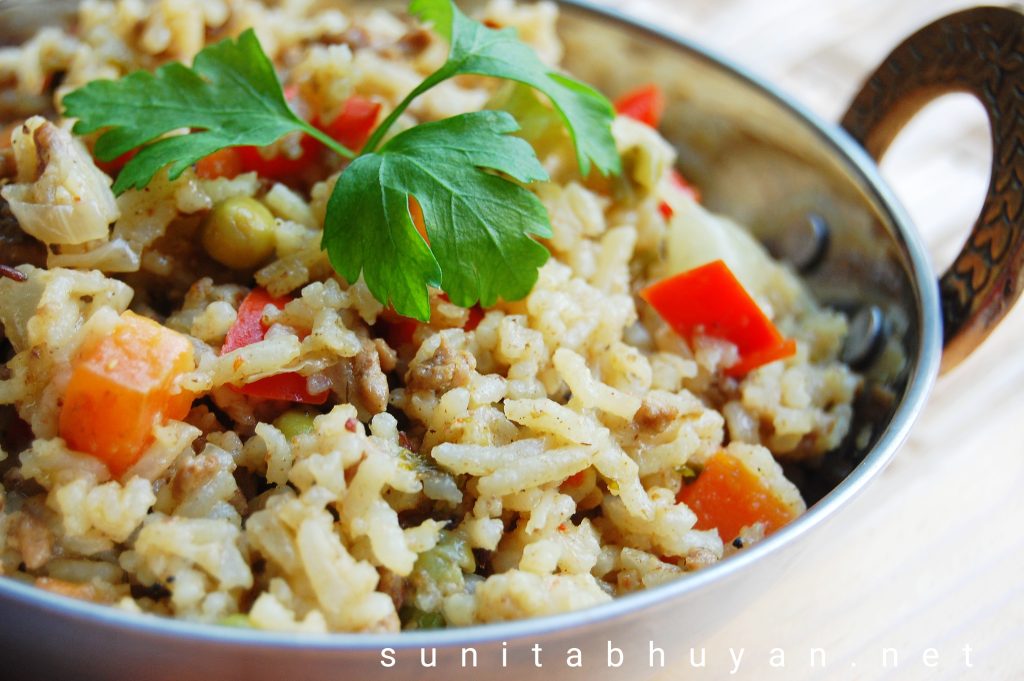 ---
Serving suggestions-
This dish is quite filling. All we needed was just some cooling cucumber raita to go along with it. It will taste great with just some plain yogurt too. If you can be bothered, you can cut up some fresh salad on the side too! Or perhaps, just have it with some pickle.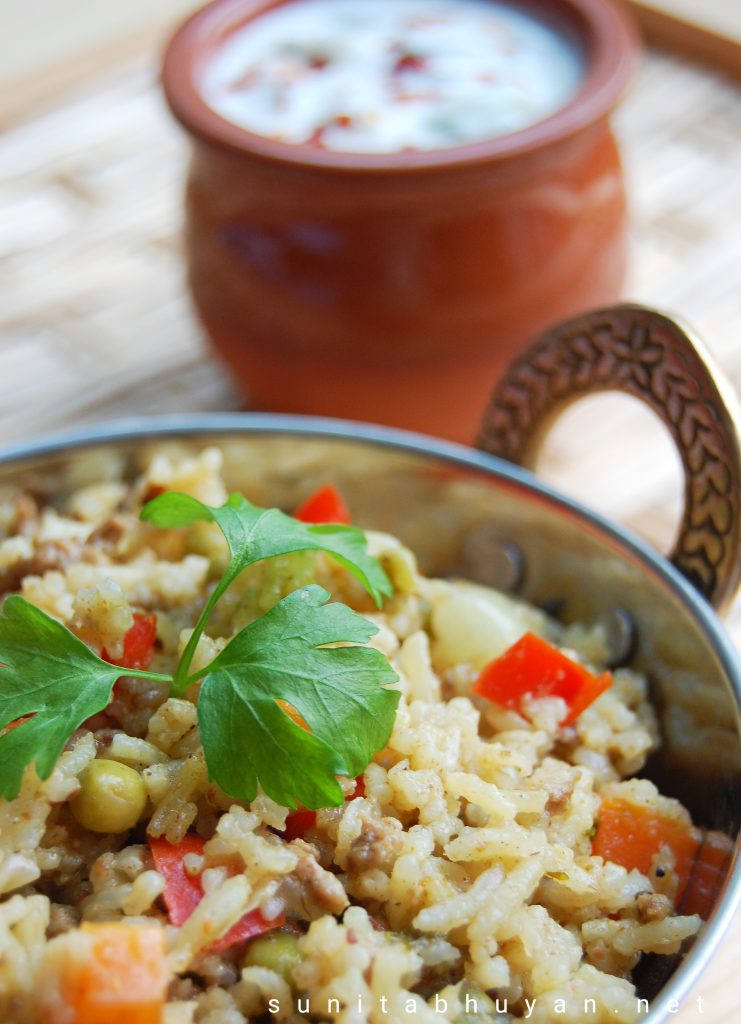 ---
Continue reading for the full recipe for this keema sabji pulao – lamb mince vegetable pulao.
---
All the non-vegetarian recipes on this website can be found here.
You might also like to try the following recipes from this website-
Baked mint and coriander chicken
Succulent baked mint and coriander chicken full of flavours; quick and easy recipe
Check out this recipe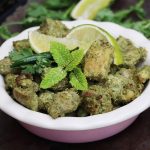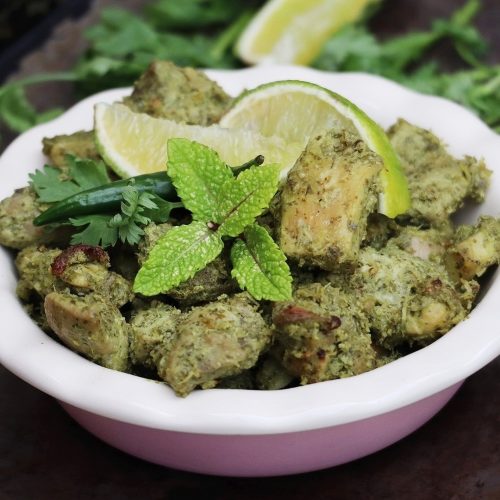 Chicken pulao
This chicken pulao is dressed up with an assortment of spices which turn this dish into an indulgent and delightful one pot meal.
Check out this recipe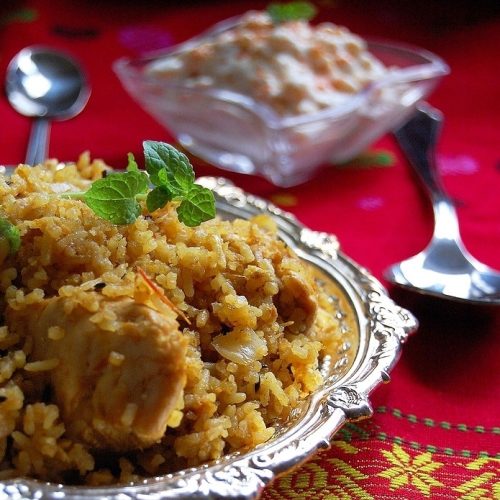 Baked leek and sage chicken patties
Ground chicken thighs (boneless and skinless) are mixed with an array of herbs and spices, shaped into patties and baked. Great on their own or as a burger or inside a tortilla wrap.
Check out this recipe
---
Subscribe to Sunita's World – life and food! to receive updates on latest posts, tips and recommendations straight to your inbox! Simply fill in the details below. Thank you!
---
Stay connected-
On another note, if you try any recipe from this website, do take a photo and tag me on instagram @sunita_bhuyan. I would love to see your creations! Also, do connect on other socials too; links to all my socials are given below-
STAY CONNECTED:
---
Recipe card-
Keema – sabji pulao l lamb mince – vegetable pulao
A delicious and hearty one pot meal with lamb mince, vegetables and rice.
Ingredients
2

tbsp

oil

2

large onions, chopped

4

large cloves of garlic, crushed

1

red pepper, chopped into small pieces

1

large carrot, chopped ino small pieces

1

cup

peas

500

gms

lamb mince

2½

tsp

cumin powder

½

tsp

turmeric powder

1

tsp

crushed red chillies (more or less)

3

cups

basmati rice, washed and drained

1

tsp

garam masala powder

7-8 cups of water

a handful of coriander leaves, chopped

salt to taste
For tempering-
1

tsp

cumin seeds

2

bay leaves

1

inch piece of cinnamon

3

pods of green cardamom

1

whole red chilli, halved
Instructions
Heat the oil in a deep, thick bottomed pan.

Add all the ingredients for tempering and stir well.

When the seeds begin to sizzle, add the onions, carrot, and garlic and stir for a minute over medium heat.

Add the lamb mince, cumin powder, turmeric powder and garam masala.

Stir well over high heat for 5-6 minutes or till the mince is nicely browned.

Add the red pepper, peas and rice, garam masala powder and stir for another 2 minutes.

Stir in the fresh coriander.

Add the water and season with salt.

Stir everything well and bring to a boil.

Reduce heat to low, cover and cook for about 15 minutes or till the rice is done.

If after 15 minutes, the rice is cooked and there is still some liquid left, increase the heat to high and lightly stir till all the moisture evaporates.
---
You might also like to try the following recipes from this website-
Til diya kukura mangxo / Assamese style chicken curry with sesame seeds
An Assamese (from Assam, North East India) style chicken curry filled with the nutty flavour of sesame seeds. Not overpowering, and with minimum use of spices. Great with rice or Indian flatbreads.
Check out this recipe
Grilled chicken skewers
Boneless strips of chicken thighs marinated in a walnut and yogurt marinade and grilled along with peppers and onions. Great to have wrapped in flatbreads or even on its own.
Check out this recipe
Lemon chicken
An easy to make lemon chicken recipe which has a mild flavour, a hint of heat and a slight sweet note from the lemon. Great as a side dish with fried rice or stir fried noodles.
Check out this recipe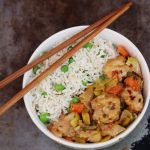 Until next time,
Sunita
STAY CONNECTED: