Made these Baked mathri l spiced and herbed Indian snack a couple of days ago to satisfy the savoury snack cravings. They are crisp and full of flavour from the herbs and spices. Unlike the regular mathris which are deep fried, these are baked. So definitely a healthier option too.
---
The Indian sub continent has so many options for savoury snacks that a lifetime is probably not enough to taste all of them. Mathri is one of them. A popular North Indian savoury snack, mathri is usually made with a dough consisting of flour, herbs and spices. The dough is then rested, rolled / cut into small discs and fried.
---
In this recipe I have baked the mathri instead of frying for a healthier option. Moreover, it also saves the time needed to stand over the stove and fry the mathris. They are quite small too, perfect as a bite sized treat on their own with your cuppa. And if you want something more substantial, you could have them along side some pickle or chutney or even some salsa. All in all, a perfect savoury snack, not just for festivals, but for all round the year.
---
Rubbing the ingredients-
Once all the dry ingredients have been mixed together, the oil is added. It then needs to be rubbed well into the ingredients The mixture is ready to be kneaded with water when a portion of the mixture holds its shape when pressed together with your hand.
Firm dough-
The dough needs to be relatively firm in order for the mathris to be crisp. Make sure to add the water a little at a time to avoid adding too much.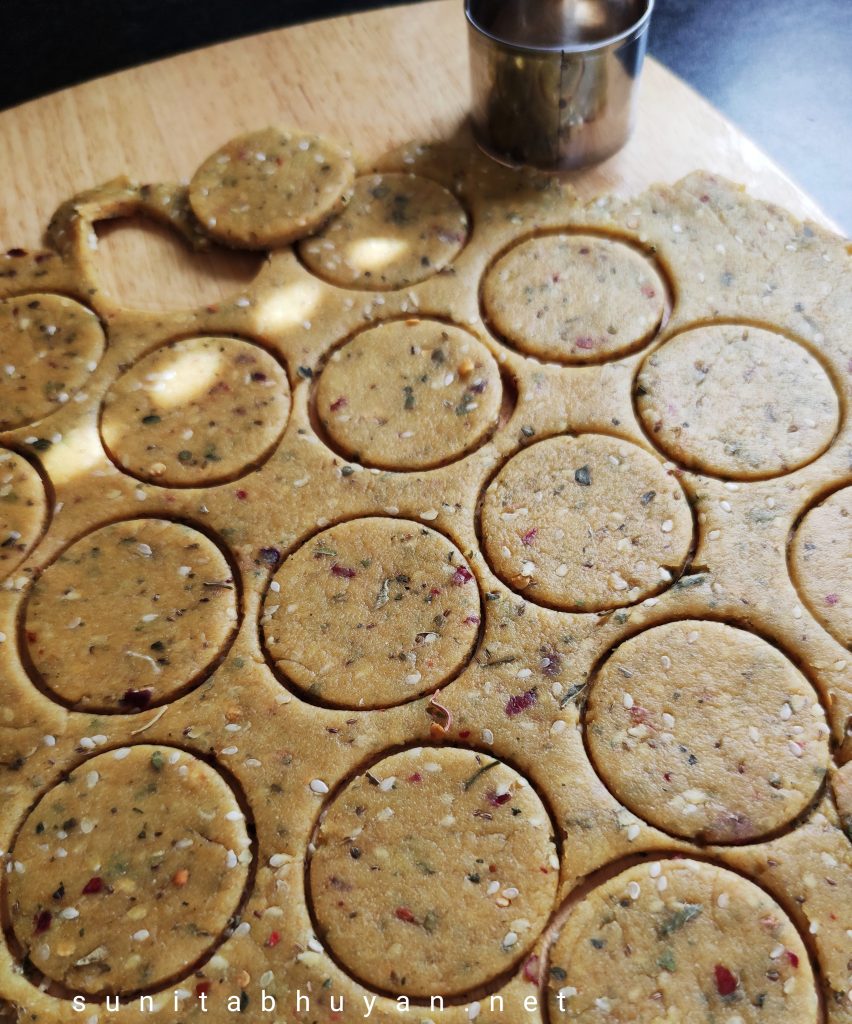 ---
Storage-
Once the mathris have cooled completely, they can be stored in air tight containers. I think it will keep for longer, but it never lasts for more than three days in our household!
Continue reading for the full recipe / video for these delicious Baked mathri l Spiced and herbed Indian snack.
---
All the baking recipes on this website can be found here.
You might also like to try the following recipes from this website-
Nimokhia kordoi l Assamese style savoury snack
Kordoi is a popular snack from Assam ( a state in North East India ). It has sweet and savoury versions and is usually made during Bihu, the major festival of Assam. This recipe is my interpretation of the savoury version.
Check out this recipe
Cumin cookies (eggless)
Easy to make cookies that are full of flavour ; a great accompaniment to your cuppa
Check out this recipe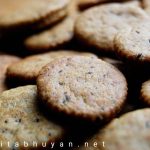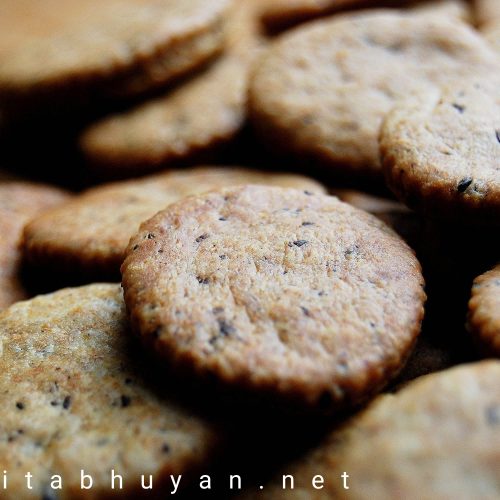 Kala chana – alu chaat l Black chickpeas and potato chaat
Kala chana / black chickpeas and potatoes are mixed with an assortment of vegetables, fruits and spices (fresh and dried) and brought together with some homemade mint-coriander and date-tamarind chutney. A healthy snack suitable for vegans too.
Check out this recipe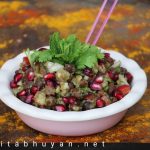 ---
Subscribe to Sunita's World – life and food! to receive updates on latest posts, tips and recommendations straight to your inbox! Simply fill in the details below. Thank you!
---
On another note, if you try any recipe from this website, do take a photo and tag me on instagram @sunita_bhuyan. I would love to see your creations! Also, do connect on other socials too; links to all my socials are given below-
[smbtolbar]
---
Recipe card-
Baked mathri l Spiced and herbed Indian snack
A baked crispy, savoury snack infused with herbs and spices.
Ingredients
2

cups

plain whole wheat flour (atta)

½

cup

gram flour

½

cup

semolina

2

tbsp

white sesame seeds

1½

tsp

carom seeds (ajwain), crushed between the palms of your hands to release more flavour

1½

tbsp

dried fenugreek leaves (kasuri methi), crushed with your hands

½

tsp

turmeric powder

2

tsp

crushed red chillies

1

tsp

salt (or as per taste)

½

cup

oil (sunflower or vegetable)

⅔

cup

+2tbsp water (more or less)
Instructions
Except the oil and water, add all the rest of the ingredients to a bowl and mix well.

Add the oil and rub into the mixture; fingertips will help. The mixture is ready to be kneaded when a handful of the mixture pressed together holds its shape.

Add water, a little at a time and make a firm dough. You might need more or less water than the amount I've used.

Knead the dough and bring it together into a lump.

Cover the dough with a damp tea towel and let it rest for at least 30 minutes.

Pre heat the oven at 180 deg C and line a baking tray with parchment.

Brush the top of the parchment with a little oil.

Take the dough and divide into two portions. Keep one portion of the dough covered and work with the other.

Grease a rolling board and pin. Shape the portion of dough into a disc and roll out to a thickness of 5mm. Using a 2inch round cookie cutter, cut out small discs from the rolled out dough and arrange on the prepared baking tray.

Gather the trimmings and bring them together. Shape into a disc, roll and cut out rounds. Continue till all the dough has been used up.

Place the tray in the centre of the pre heated oven and bake for about 15-17 minutes.

Transfer to a cooling rack and cool completely. It will firm up more on cooling

Use up the remaining half of the dough in the same manner.

Store the completely cooled baked mathris in an air tight container.
Video
---
You might also like to try the following recipes from this website-
Cheese bites l Cheese cookies
These little crispy cheese bites l cheese cookies are really addictive and the pungency of the nigella seeds complement them very well. The Red Leicester cheese gives them a lovely orange hue too! Great if you're looking for a savoury treat to nibble on.
Check out this recipe
Savoury scones
These versatile savoury scones are filled with the goodness of vegetables and a little cheese to taste; great on their own or as an accompaniment to soups and stews.
Check out this recipe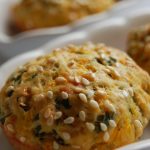 Coconut and cumin cookies (eggless)
Delightful savoury cookies which can be enjoyed on their own or as a base for various cheeses and chutneys. Also has a slight hint of chillies.
Check out this recipe
---
Until next time,
Sunita
STAY CONNECTED: