This baked chicken curry is probably one of the easiest and delicious curries one can make. It received a lot of oohs and aahs from the family. The food critic of a daughter declared it one of the best I ever made. It looked luxurious and indulgent too without actually being too rich and heavy on the tummy.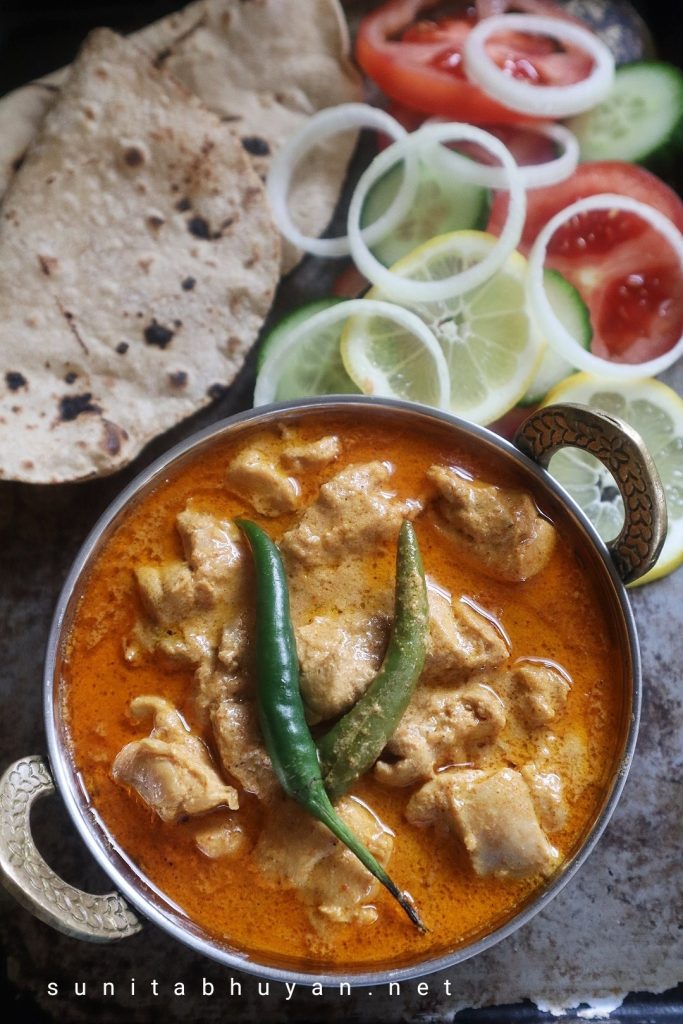 ---
Spring has truly arrived in our neck of the woods. The branches of the trees are sprouting new growth; the buds of many flowers are now in bloom and some are just bout to burst open. Spring also means a lot of weeding and pruning. With the days getting longer and the sun gracing us with its presence, I've been spending much time outdoors sprucing up my little garden. It is a true pleasure to come across the smattering of colour here and there. I can't wait for more.
---
With more time needed to spend outdoors, I've been making dishes that are less time consuming and need less constant attention. And this baked chicken curry fits the bill perfectly. Apart from lightly stirring a couple of times, you can sit back and relax and let the oven do all the hard work.
---
Like almost all my recipes this was a spur of the moment one and I added the ingredients at random. I was in a hurry and didn't bother taking notes. When we sat down to eat however, I was quite pleased with the outcome and tried to remember and note down all that I added in this recipe. This baked chicken curry is very popular in our house nowadays. Needless to say, I've now made it a good few times and the last time, I also recorded a video, which I am sharing in this post with all of you.
---
Greek yogurt-
I have used Greek yogurt, which has a creamier consistency than regular yogurt, in this recipe. If you do not have Greek yogurt, you could probably try using natural yogurt, but strain the excess liquid.
Serving suggestion-
This baked chicken curry goes best with rice or some Indian flatbreads. We had ours with some phulkas ( recipe here) and some fresh salad.
Continue reading for the detailed recipe / video for this baked chicken curry.
---
All the non – vegetarian recipes on this website can be found here.
You might also like to try the following recipes from this website-
Lemon chicken
A mild lemon flavoured chicken recipe which can be made in one pan from start to finish. A great accompaniment to some fried rice or stir fried noodles.
Baked mint and coriander chicken
Succulent baked mint and coriander chicken full of flavours; quick and easy recipe
Check out this recipe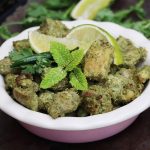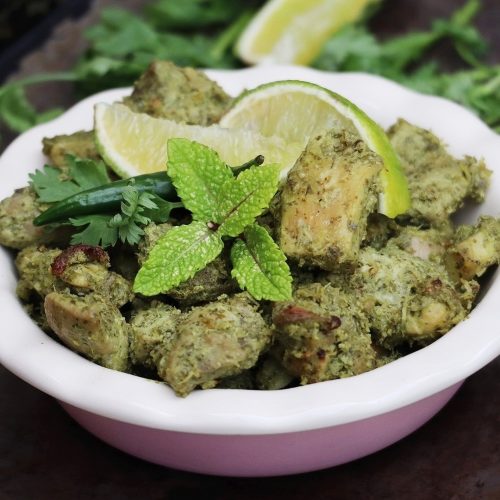 Chicken and vegetable spaghetti soup.
A healthy and easy to make soup full of flavour.
Check out this recipe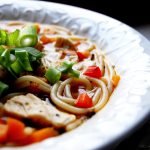 ---
Subscribe to Sunita's World – life and food! to receive updates on latest posts, tips and recommendations straight to your inbox! Simply fill in the details below. Thank you!
---
On another note, if you try any recipe from this website, do take a photo and tag me on instagram @sunita_bhuyan. I would love to see your creations! Also, do connect on other socials too; links to all my socials are given below-
STAY CONNECTED:
---
Recipe card-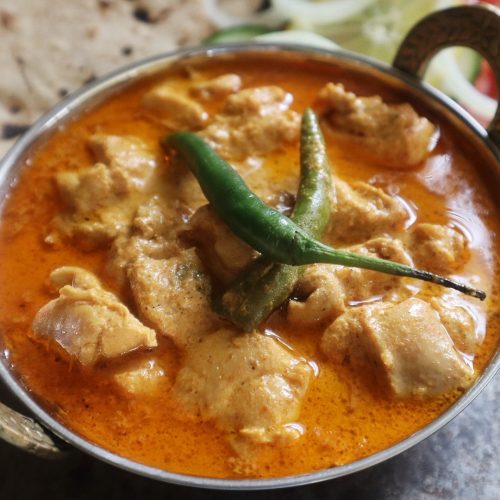 Baked chicken curry
A delicious chicken curry; easy to rustle up without compromising on the taste.
Ingredients
1

kg

boneless chicken thighs, cut into small bite sized pieces

1½

cup

Greek yogurt

2

tbsp

tandoori masala

2

tsp

coriander powder

1

tsp

chilli powder (optional)

1½

tsp

gram flour

juice of half a large lemon

2

fresh green chillies, stalks removed and slit a little upwards from the thicker end

4-5 cardamom pods, split at one end

2

1inch pieces of cinnamon

2

tsp

garam masala powder

salt to taste

2

tbsp

olive oil
To be ground together (I used a mortar and pestle)
5

cloves of garlic

1

inch piece of ginger

3

green chillies
Instructions
Add the chicken pieces to a baking dish.

Apart from the garam masala powder, add all the rest of the ingredients to the chicken and mix well.

Cover the dish with cling film and leave to marinate for at least 30 minutes.

Pre heat the oven at 180 deg C.

Remove the cling film and place the baking dish in the centre of the pre heated oven and bake for 30 minutes.

Stir and bake for another 20-30 minutes or till the chicken is cooked completely and the gravy thickens slightly. It will thicken further on cooling. Stir in between.

Stir in the garam masala powder just before the last couple of minutes of baking.

Remove from the oven and serve hot with rice or Indian flatbreads. We had ours with some phulka and salad.
Video
---
You might also like to try the following recipes from this website-
Chicken pulao
This chicken pulao is dressed up with an assortment of spices which turn this dish into an indulgent and delightful one pot meal.
Check out this recipe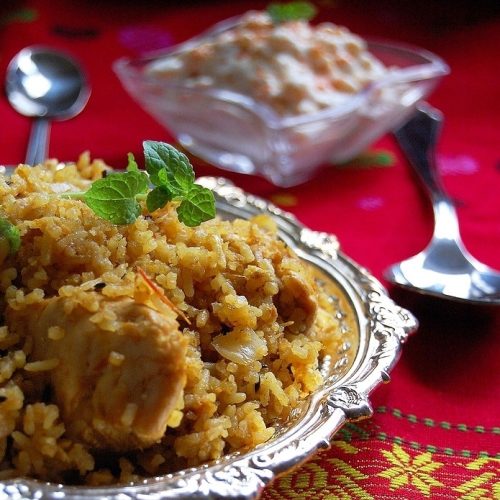 Baked leek and sage chicken patties
Ground chicken thighs (boneless and skinless) are mixed with an array of herbs and spices, shaped into patties and baked. Great on their own or as a burger or inside a tortilla wrap.
Check out this recipe
Grilled chicken skewers
Boneless strips of chicken thighs marinated in a walnut and yogurt marinade and grilled along with peppers and onions. Great to have wrapped in flatbreads or even on its own.
Check out this recipe
---
Until next time,
Sunita
STAY CONNECTED: