This chilli garlic mushroom recipe is very quick and easy to rustle up. It takes just ten minutes of cooking time. All the more reason to cook and love this recipe.
---
The weather in our neck of the woods has been a constant roller coaster. After a few continuous days of glorious sunshine and warmth, the temperatures have dipped again with night time temperatures closer to 0 degree centigrade. A few of the spring bulbs in my little garden did open up to lend some colour on gloomy days. Thankful for the blooms spreading much needed cheer.
---
Substitutions-
I have used chestnut mushrooms in the recipe as we like its deeper flavour; you can use closed cap mushrooms instead if you do not have the former readily available.
Serving suggestions-
Coming back to this recipe for chilli garlic mushroom, as mentioned before, it is very easy and quick, taking about 10 minutes of cooking time. And the dish goes well as a side with rice or any Indian flatbread, and also as a topping on toast.
---
Continue reading for the detailed recipe / video for this chilli garlic mushroom.
---
All the vegetarian recipes on this website can be found here.
You might also like to try the following recipes from this website-
Phulka (roti /rooti) recipe l Puffed Indian flatbread
An unleavened Indian flatbread partly cooked on a pan and partly over an open flame which puffs it up.
Check out this recipe
Palak paneer
An Indian dish of paneer (Indian cottage cheese) cubes in a spinach gravy. Soft cubes of paneer in a smooth spinach gravy- the perfect accompaniment to Indian flatbreads and rice.
Check out this recipe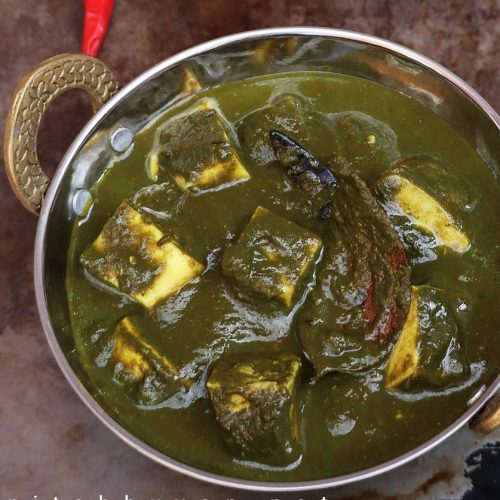 Stir fried sesame and garlic kale
A quick, easy and flavoursome recipe to enjoy this healthy vegetable
Check out this recipe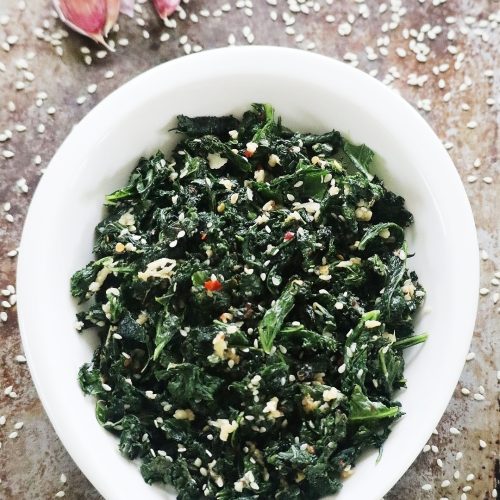 ---
Subscribe to Sunita's World – life and food! to receive updates on latest posts, tips and recommendations straight to your inbox! Simply fill in the details below. Thank you!
---
On another note, if you try any recipe from this website, do take a photo and tag me on instagram @sunita_bhuyan. I would love to see your creations! Also, do connect on other socials too; links to all my socials are given below-
STAY CONNECTED:
---
Recipe card-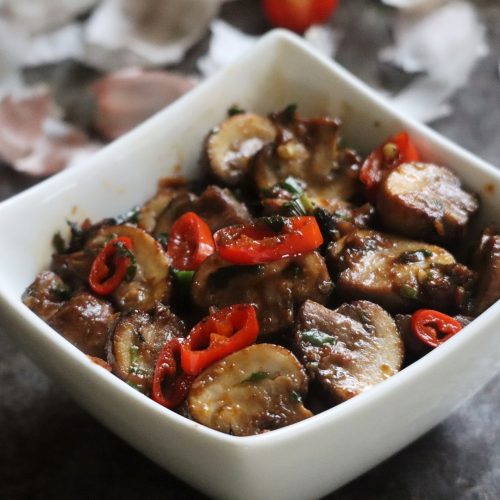 Chilli garlic mushroom
A quick and easy mushroom recipe, which literally cooks in ten minutes.
Ingredients
200

gms

chestnut mushrooms

1

large fresh red chilli. thinly sliced

4

cloves of garlic, crushed

a small bunch of spring onion greens, very finely chopped

1

tbsp

olive oil

1

tbsp

butter

½

tsp

paprika

½

tsp

salt (or to taste)
Instructions
Heat the olive oil in a pan over high heat.

Reduce the heat to low and and the garlic. Stir constantly for about a minute.

Raise the heat to medium and add the mushrooms. Stir for about 2 minutes.

Add salt and stir for a minute.

Add the butter and continue stirring for another minute and a half.

Add the paprika and stir for a minute.

Add the chillies and stir for a minute and a half.

Add the spring onion greens and stir for about a minute and a half.

Serve hot as a side dish with any Indian flatbread or rice or as a topping on toast.
Video
You might also like to try the following recipes from this website-
Baked baby aubergines in peanut gravy
Baked juicy aubergines dunked in an easy peanut gravy
Check out this recipe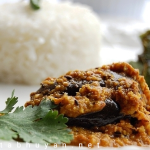 Baked cumin - potato wedges
Regular white potatoes are cut into wedges, tossed in an olive oil - spice (predominantly cumin) mixture and baked. They have a firm and crisp exterior with softer / fluffier insides.
Check out this recipe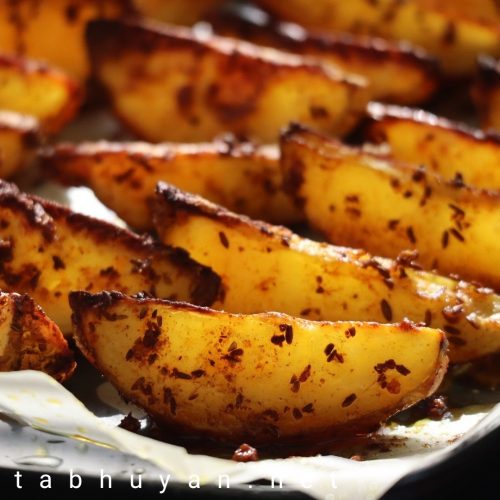 Bootor dali
Bootor dali is an Assamese dish of split chickpeas (chana dal) cooked in spices. It is usually thick and eaten with Indian flatbreads though it's thinner counterpart is also enjoyed with rice.
Check out this recipe
Until next time,
Sunita
STAY CONNECTED: