This mixed beans stew (oil free) is a hearty one pot dish which is very flavourful. It is the perfect recipe if you have a few bits and bobs leftover in your pantry that needs using up. The special spice mix used in it is what gives the stew its oomph!
---
I made the recipe a while ago and it has been lying in the drafts for a while. As temperatures start to drop, and warm hearty meals come to mind, this recipe is right up there on the list of 'to make' recipes.
The assortment…
I managed to dig out some ingredients (namely, half a pack of mixed beans and another half pack of mixed lentils and pearl barley and also the last remains of a pack of Arborio rice) which were languishing in the pantry long enough. We do love our legumes quite a lot and I was really surprised as to how they could have been left unattended.
---
Perfect for a cold day…
Outdoors, the rain was lashing, the winds were howling, and the sky lit up with lightning and roared with thunder. But, all four of us were huddled indoors, with our hands cupping our bowls, deriving comfort in the warmth of its contents and also in the company of each other. Yes, it was bliss. I really enjoyed making the stew…adding liquid, simmering, stirring…and the whole house seemed to be filled with it's comforting aroma. And when the cooking was over, I smiled…the knowing smile of predicting a meal with happy and contented customers. Here's how I made it…I leave the mix of beans and lentils up to your choice..
---
Unfortunately, I did not make a note of the time, so if you do decide to try this recipe, you will have to follow the rest of the instructions and check the doneness of the ingredients. But it is not complicated and it will definitely warm you up on a cold night!
---
Continue reading for the full recipe for this mixed beans stew (oil free)!
All the vegetarian recipes on this website can be found here.
You might also like to try the following recipes from this website-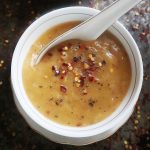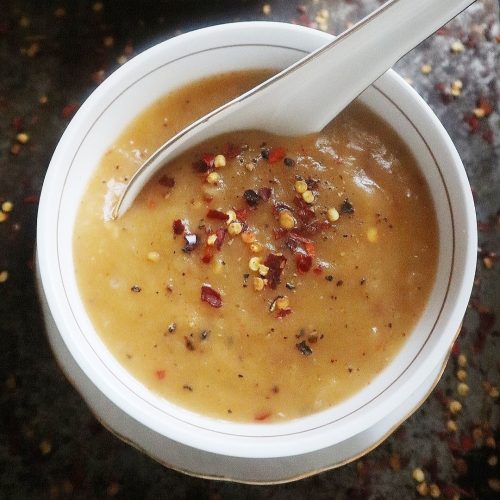 Chicken and vegetable spaghetti soup.
A healthy and easy to make soup full of flavour.
Check out this recipe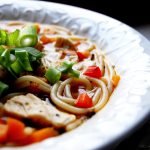 Roasted butternut squash and sweet potato soup
Chunks of butternut squash and sweet potato are roasted along with onion and garlic and flavoured with herbs and spices. Everything is then blended together to form a creamy soup.
Check out this recipe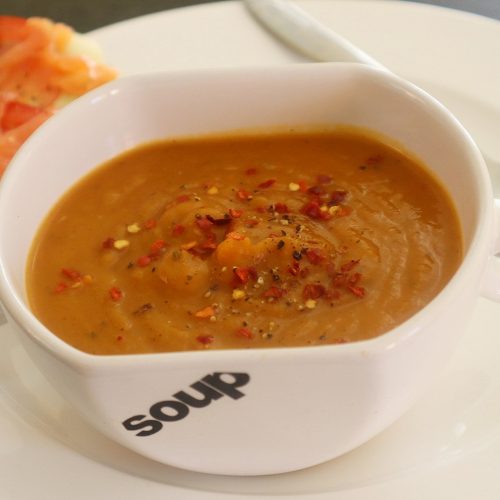 ---
Subscribe to Sunita's World – life and food! to receive updates on latest posts, tips and recommendations straight to your inbox! Simply fill in the details below. Thank you!
---
On another note, if you try any recipe from this website, do take a photo and tag me on instagram @sunita_bhuyan. I would love to see your creations! Also, do connect on other socials too; links to all my socials are given below-
STAY CONNECTED:
---
Recipe card-
Mixed beans stew (oil free)
A hearty and filling stew full of flavour.
Ingredients
7-8 handfuls altogether (not separately) of mixed beans, lentils and pearl barley( the barley gives the broth a nice thickness), soaked for 6-7 hours or overnight.

1

bay leaf

2 handfuls of Arborio rice

2 stock cubes ( vegetable or chicken)

1 large carrot, cubed

1 onion, finely chopped

a little paneer, cut into small cubes(very optional)

salt and pepper to taste
To be ground together (I did so in a mortar and pestle, doesn't have to be too fine)
a large pinch of saffron

1 and 1/2 tbsp of roasted and ground cumin (store bought cumin powder does not give the desired flavour)- to do this, dry roast whole cumin seeds until thy release their aroma (do not burn) in a small pan and grind when cool

1 tsp paprika

3-4 cloves of garlic, chopped

1/3 tsp of crushed red chillies(more or less)

1 tsp tomato puree

3 tsp water
Instructions
Half cook the soaked beans, lentils and barley mix along with the bay leaf and salt in a large saucepan with about 2-3 inches of water over it. Discard the froth that collects on top, and add more water if necessary.

Add the rice along with the stock cubes, onion and carrot and simmer till done 3/4 of the way. Keep stirring in between and adding more water if necessary( add the water gradually, not lots in one go)

Add the ground spice paste, mix and simmer till completely cooked.

Check the salt and add the pepper and paneer.
---
You might also like to try the following recipes from this website-
Rahar dali l Arhar dal l Toor dal l Split pigeon peas
A delicious and easy to make recipe
Check out this recipe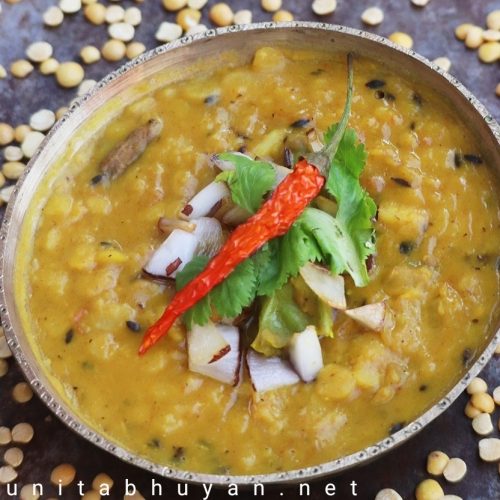 Vegetable mung dal l One pot recipe
A nutritious dal perfect on its own or as a side dish.
Check out this recipe
Bootor dali
Bootor dali is an Assamese dish of split chickpeas (chana dal) cooked in spices. It is usually thick and eaten with Indian flatbreads though it's thinner counterpart is also enjoyed with rice.
Check out this recipe
---
Until next time,
Sunita
STAY CONNECTED: