These whole wheat mini banana pancakes were rustled up earlier last month.The temperatures were much higher then and the bananas in the fruit bowl were ripening much faster than we could eat. I somehow missed posting about them on the blog earlier. But then, better late than never, right?!!
The pancakes do not contain refined flour or sugar. I have used whole wheat flour with a bit of ground rice for some bite and jaggery to sweeten them. These are very rustic pancakes and smaller in size which is perfect as a snack with a cuppa!
These pancakes were made in a jiffy to satiate that slight pang for a little something in the early evening as we had an early lunch on the day. And they fit the bill perfectly. We enjoyed it with some honey and fresh fruit.
Sweetness-
These pancakes, on their own, are not too sweet. If you would like them sweeter, feel free to increase the amount of jaggery. For us, the amount given in the recipe was enough as we enjoyed them with some honey.
Thickness of the batter-
The batter should not be too thick or thin. It should easily fall off a ladle without being too runny. Again, the amount of water given in the recipe was perfect for my batter. If yours is a little too thick, add a little more. I suggest that you add the water gradually in order to keep a check on the consistency.
Heat-
Once the pan and oil has heated, cook the pancakes over low heat as they will burn easily.
Continue reading for the complete recipe for these whole wheat mini banana pancakes.
---
Subscribe to Sunita's World – life and food! to receive updates on latest posts, tips and recommendations straight to your inbox! Simply fill in the details below. Thank you!
---
Recipe card-
Whole wheat mini banana pancakes
Mini pancakes filled with the goodness of banana and whole wheat and sweetened with jaggery
Ingredients
1½

cups

plain whole wheat flour (atta)

1

tsp

baking powder

1

tsp

ground cinamon

⅓

cup

grated jaggery (see notes below)

1

ripe banana, mashed

¼

cup

ground rice

1

cup

milk

½

cup

water (more or less)

1

egg

oil for shallow frying ( I used vegetable oil)
Instructions
In a bowl, whisk together the flour, baking powder, cinnamon and ground rice.

Add the milk, egg and banana and whisk. The mixture will be quite thick.

Add the water gradually, a little at a time, and whisk to make the batter. The batter should easily drop off a ladle, but should not be too runny. If the batter is still thick, add a little more water.

Before making the pancakes, check that the jaggery has dissolved. If not, let the batter stand for few minutes and then whisk well.

Heat a pan, preferably non stick. Add a little oil and swirl it around the pan.

When the oil is heated, reduce the heat to low.

Drop small ladlefuls of batter onto the pan, slightly apart from one another. My pan could accommodate around 7 at a time.

Cover the pan with a tight fitting lid and cook till there are bubbles on top. The tops will also be on the drier side.

Remove the lid and turn each of them over with a slotted spoon.

Cook for a few more minutes till both the sides are golden. Keep turning them over in between. Keep the flame low as they will burn quickly.

If you are using a on stick pan, you will not need much oil. However, if they look too dry, just drizzle a little oil around them

It took me around 6 – 6½ minutes to cook each batch (7 at a time).

Transfer the pancakes to a plate lined with paper towels.

Serve warm on their own with a cuppa or with some honey and fresh fruit.
Notes
These pancakes were not overtly sweet. If you like it sweeter, feel free to add more jaggery. The given amount of jaggery  was okay for us as some of us had it with some honey. 
All the recipes for snacks in this website can be found here.
You might also like to try these recipes from my website-
Whole wheat blueberry and coconut muffins
Easy to make muffins filled with the goodness of whole wheat, blueberries and coconut.
Check out this recipe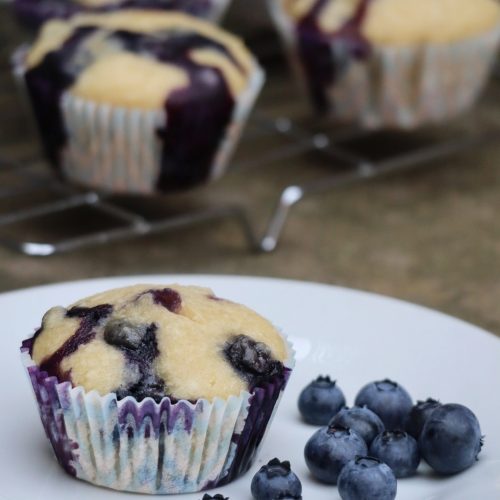 Lavender whole wheat shortbread biscuits
Shortbread biscuits infused with lavender.
Check out this recipe
Whole wheat , eggless, coconut and orange cookies
A whole wheat, eggless, coconut and orange cookie recipe; crisp and not overtly sweet.
Check out this recipe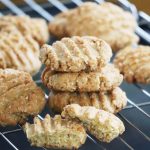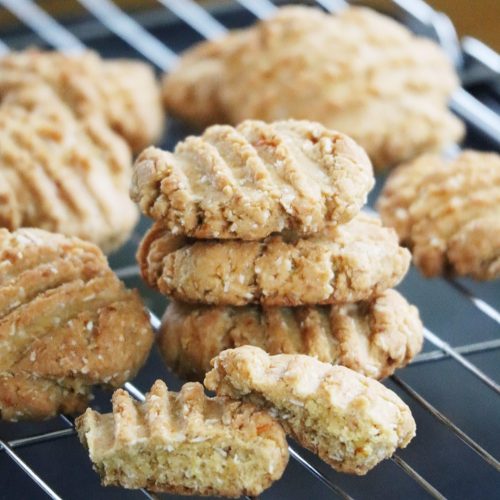 Until next time,
Sunita
STAY CONNECTED: