Aloo pitika l Assamese style mashed potatoes is pure comfort food. Mix it with some boiled rice and dal and you are good to go!
---
Pitika-
The Assamese ( from Assam, a state in North East India) are very good with their pitikas (mash) and they are made with various vegetables and leafy greens, though non vegetarian options are available too. Sometimes an ingredient is first smoked and then mashed. Salt and mustard oil are the two compulsory ingredients in any Assamese style mash, the latter adding a pungency to the dish. Other ingredients like onion, green chillies and fresh coriander are also commonly used to enhance the mash.
---
---
Mustard oil-
Every Assamese style pitika demands some mustard oil which add some pungency to the dish.
This version-
Aloo pitika is one of the most common Assamese style mash. The version I'm sharing here is the very basic one, there are various other combinations too. Hopefully I'll be able to share some of them in the future.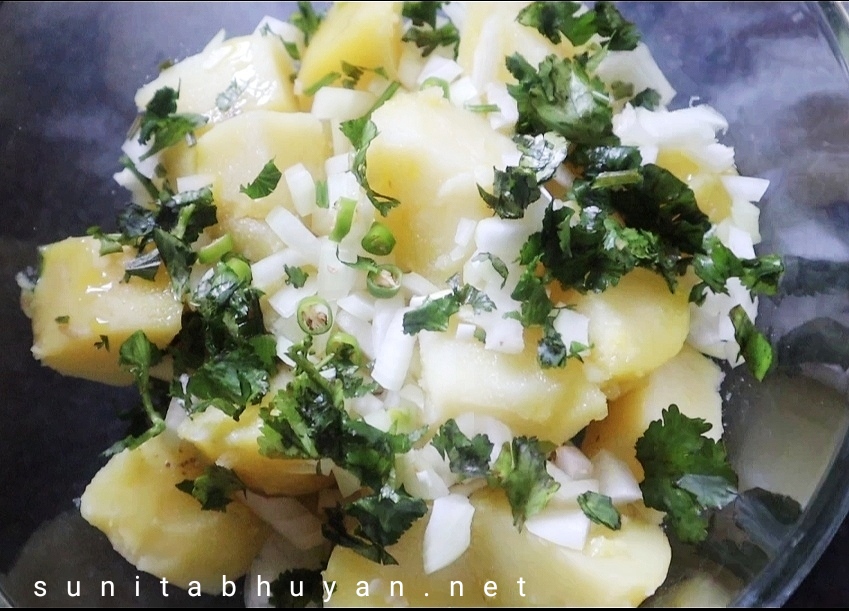 ---
Shaping-
All potato based Assamese style mash is shaped into balls. Don't ask me why; that's how I and the rest have grown up eating. I guess it looks neat?!!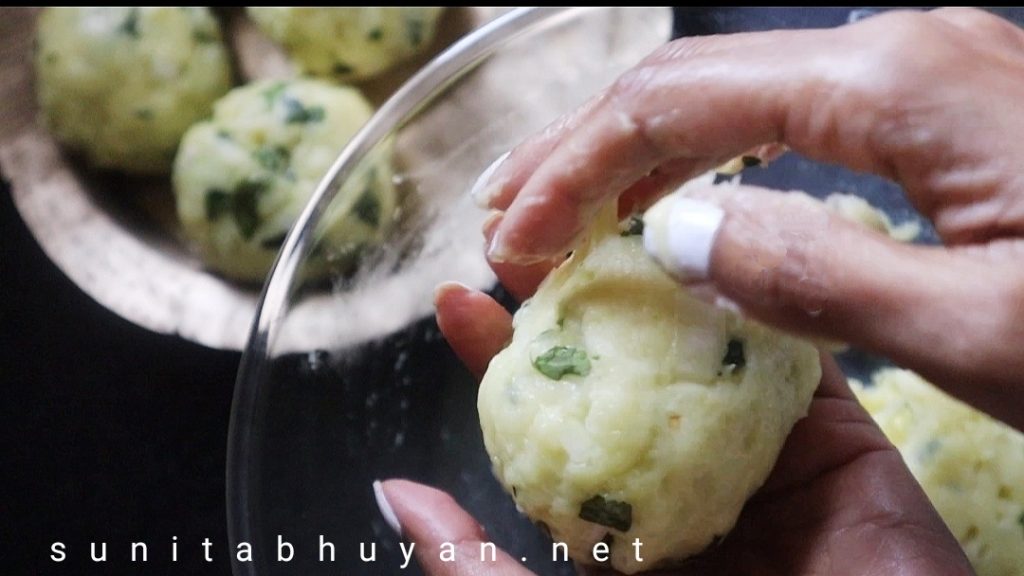 Comfort food-
Aloo pitika is a very common comfort food in our house ad the kids love it too. One of our favourite ways is to have it with some overcooked rice, salt and butter or ghee. And perhaps some fresh tomato and cucumber salad. By the way, "overcooked rice"? Yes, you heard it right. It is the type where the water is a bit more than needed and not drained off. You've got to try this combination before writing it off! Aloo pitika makhon bhaat (buttered rice with potato mash)- is an emotion and pure comfort!
---
---
On this occasion though, we had the aloo pitika with some vegetable mung dal and roasted and smoked aubergine along with papad (poppadom), pickle and a dash of lemon and a green chilli.
Continue reading for the full recipe and video for the Aloo pitika l Assamese style mashed potatoes.
---
All the Assamese recipes on this website can be found here.
You might also like the following recipes from this website-
Vegetable mung dal l One pot recipe
A nutritious dal perfect on its own or as a side dish.
Check out this recipe
Bengena pura pitika l Roasted and smoked aubergine mash
An Assamese style side dish of roasted and smoked aubergine, mixed with spices and herbs
Check out this recipe
Courgette / zucchini khar (Assamese recipe)
An alkaline based dish from Assamese cuisine, typically had at the start of a meal with some rice.
Check out this recipe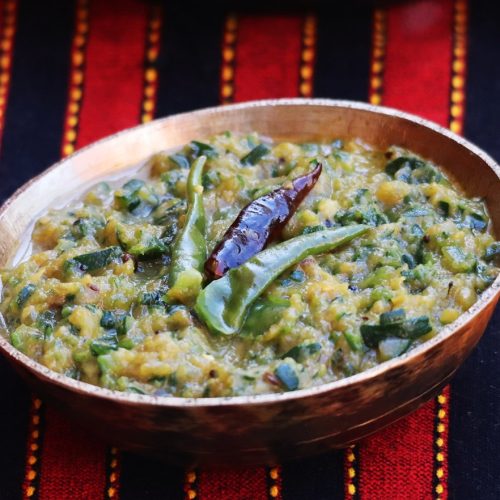 Subscribe to Sunita's World – life and food! to receive updates on latest posts, tips and recommendations straight to your inbox! Simply fill in the details below. Thank you!
---
Stay connected-
On another note, if you try any recipe from this website, do take a photo and tag me on instagram @sunita_bhuyan. I would love to see your creations! Also, do connect on other socials too; links to all my socials are given below-
STAY CONNECTED:
---
Recipe card-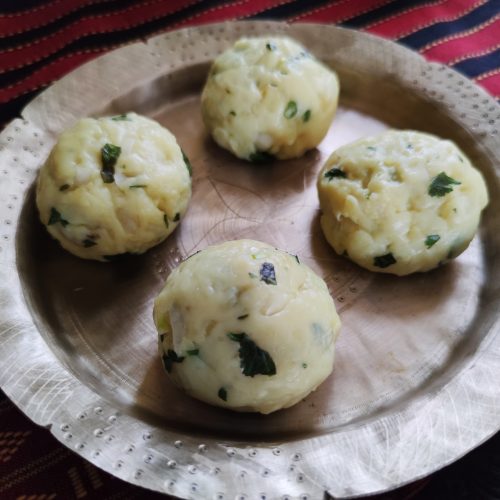 Aloo pitika l Assamese style mashed potatoes
The most popular and loved mash from Assamese cuisine, perfect for a comforting meal.
Ingredients
4

large potatoes, chopped

1

onion, finely chopped

a small bunch of fresh coriander, chopped

3-4 tbsp of mustard oil

salt to taste

1-2 finely choped green chillies
Instructions
Add the potatoes to a pot and cover with enough water.

Place the pot over high heat and bring to a boil.

Reduce heat an simmer till the potatoes are cooked through. You might need to remove the lid. This takes me about 15-20 minutes.

Transfer the potatoes to a sieve and drain the water.

Cool a little until you can comfortably peel the potatoes. Do not be tempted to pour cold water over the potatoes to cool them. I find that somehow lessens the flavour.

Peel the potatoes and transfer to a bowl.

Add the onions, chilli, coriander, mustard oil and salt. Mash well.

Shape the mash into 6-7 large balls and serve with rice and dal.

We had ours with some boiled rice, roasted and smoked aubergine, vegetable and mung dal along with a pickle, papad (poppadom), lemon and chilli.
Video
---
You might also like to try the following recipes from this website-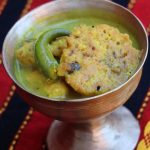 Bootor dali
Bootor dali is an Assamese dish of split chickpeas (chana dal) cooked in spices. It is usually thick and eaten with Indian flatbreads though it's thinner counterpart is also enjoyed with rice.
Check out this recipe
Komola kheer l Orange pudding
A slow cooked milk based dessert with fresh orange segments and spices
Check out this recipe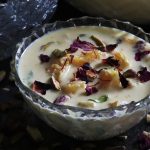 ---
Until next time,
Sunita
STAY CONNECTED: