[smboolbar]
This aam doi l baked mango yogurt recipe is very easy to whip up and requires very little hands on time. Just mix together a few ingredients and pop it into the oven. After that, chill in the fridge and then enjoy the creamy delicacy.
---
Just when I thought warmer and brighter days are well and truly here, the weather takes a turn. The temperatures have dropped with the night time ones in the low one digits. Oh well! One can't fight nature and has to make do with whatever is on offer.
Memories-
Back in India, the mango season has started and this delicious fruit brings back so many fond memories of gorging on this golden fruit on a hot summers day. Visits to my eldest aunt's place would lead us straight to the huge mango tree in their garden from where the delectable fruits would be hanging, ready to be picked and enjoyed. And enjoy, we certainly did to our heart's content.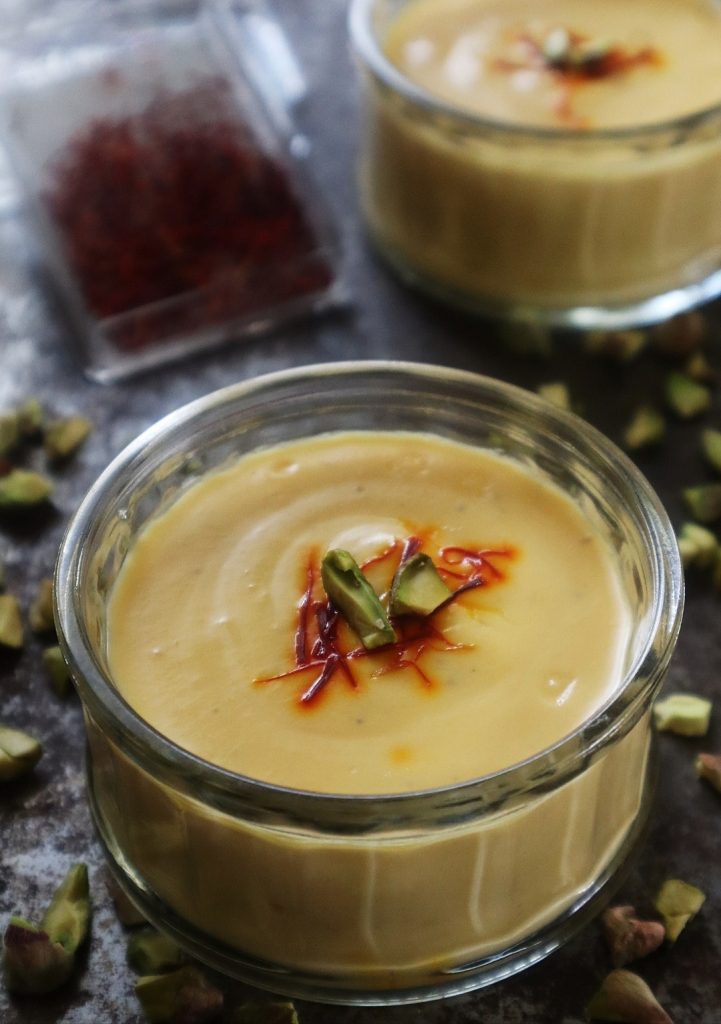 ---
Here in the UK, I haven't had the chance to lay my hands on some fresh mangoes, so trying to bring in some sunshine with some delicious aam doi / baked mango yogurt. I have used canned mango pulp to do the job; if you have fresh ripe mangoes on hand, you can of course, use that instead.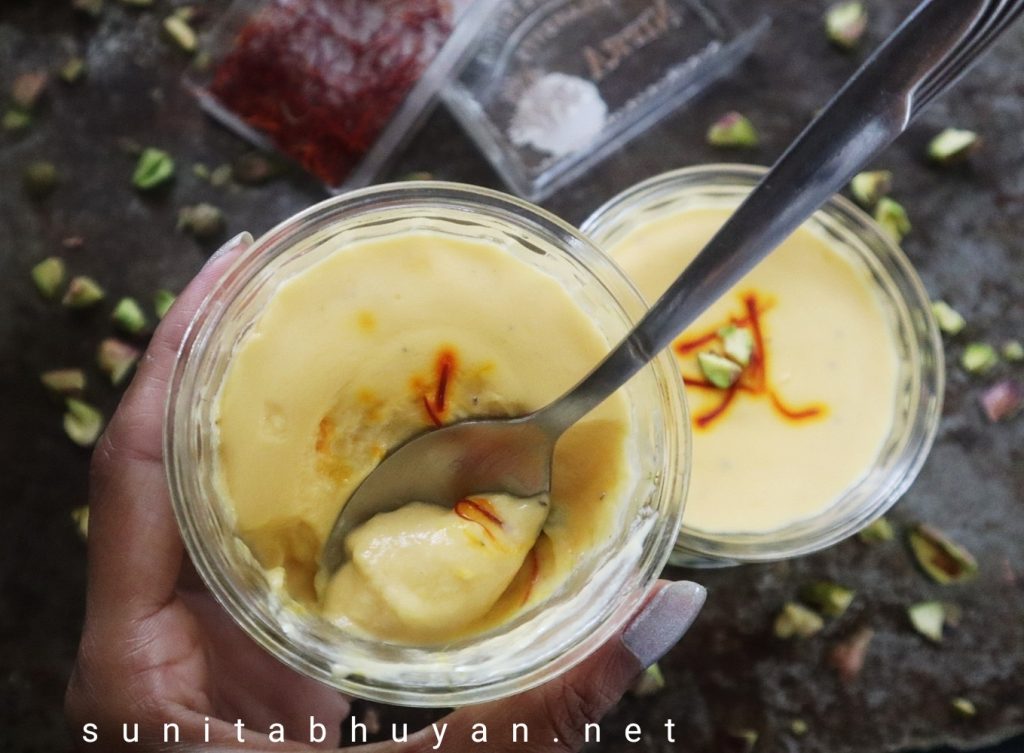 ---
It needs just a few ingredients and is easy to put together. Once it comes out of the oven, all you need to do is chill in the fridge and serve. Very little hands on time is required in this recipe, so if you need an easy to make something for a dinner party, this is it. It can be made the previous day and left to chill in the fridge overnight, ready to serve the next day.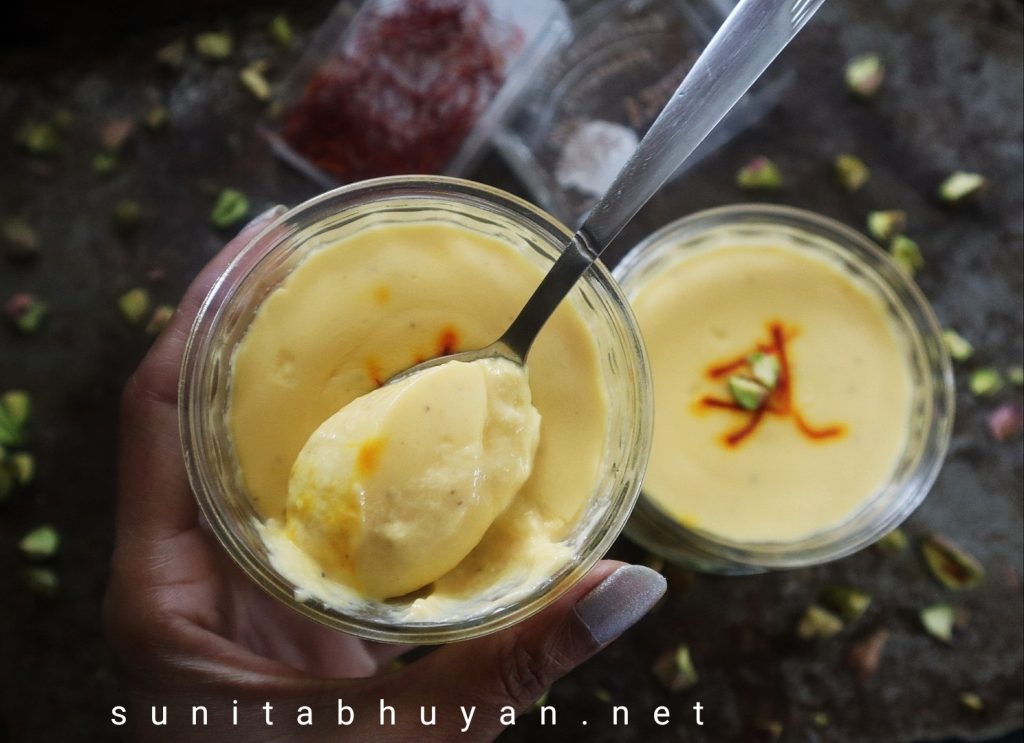 Continue reading for the full recipe / video for Aam doi l Baked mango yogurt
---
All the baking recipes on this website can be found here.
You might also like to try the following recipes from this website-
Cherry cheesecake
A cheesecake infused with the seasons cherries. It has a crisp crust, with a cherry and soft cheese filling, and drizzled with cherry syrup and melted white chocolate on top. A truly summery, fruity dessert.
Check out this recipe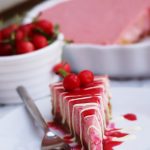 Rhubarb, almond and white chocolate cake
Fresh stalks of rhubarb were combined with the flavours of almond and white chocolate to give a combination of taste explosions in every spoonful.
Check out this recipe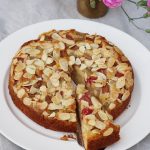 ---
Subscribe to Sunita's World – life and food! to receive updates on latest posts, tips and recommendations straight to your inbox! Simply fill in the details below. Thank you!
On another note, if you try any recipe from this website, do take a photo and tag me on instagram @sunita_bhuyan. I would love to see your creations! Also, do connect on other socials too; links to all my socials are given below-
STAY CONNECTED:
---
Recipe card-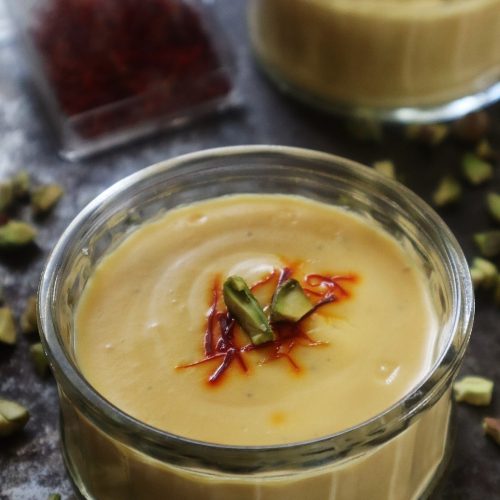 Aam doi I Baked mango yogurt
An easy baked mango yogurt recipe
Ingredients
1

cup

Greek Yogurt

¼

cup

condensed milk

½

cup

mango pulp (I used canned)

¾

tsp

crushed cardamom

a few strands of saffron
To garnish-
a few saffron strands

a little chopped pistachios
Instructions
Pre heat the oven at 180 deg C.

In a bowl, add the yogurt, condensed milk and mango pulp and whisk well.

Add the crushed cardamom and whisk in.

Add the saffron strands and whisk in.

Spoon the mixture into ramekins. Arrange a few strands of saffron on top of each.

Cover the tops of each with a piece of foil.

In a deep baking dish, add some water and arrange the ramekins in it.

The water should come up to about a quarter of the way up the sides of the ramekins. At this stage, add more water if needed to come up to the desired level.

Place the dish in the centre of the pre heated oven and bake for 45 minutes.

Remove the dish from the oven and remove the foils.

Carefully remove the ramekins from the water bath and cool completely.

Cover the ramekins with pieces of cling film and place in the fridge to chill for at least 4 hours.

Remove from the fridge and garnish the top with some chopped pistachios and serve.
Video
---
You might also like to try the following recipes from this website-
Komola kheer l Orange pudding
A slow cooked milk based dessert with fresh orange segments and spices
Check out this recipe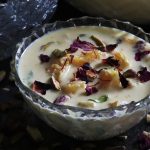 Coconut and jaggery malpua
Indian dessert of fragrant pancakes soaked in a jaggery and saffron syrup.
Check out this recipe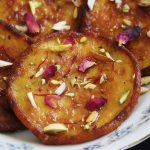 Dates, figs and nuts burfi ( no added sugar)
Healthy bites loaded with an assortment of nuts and seeds and with the sweetness of dried dates and figs.
Check out this recipe
Until next time,
Sunita
STAY CONNECTED: